Artist in Focus 2022 Teis Semey: "I always go for intensity"
Every year, North Sea Round Town (NSRT) introduces a new Artist in Focus and in 2022, this will be guitarist and composer Teis Semey. The musician is given the opportunity to present various (dream) projects and to share his artistic vision. Together with NSRT, Semey will present new collaborations with up-and-coming and 'unknown' talent, with Rotterdam forming a big musical playground. "I'm a magnet, looking for great music."
Text: Angelique van Os — 18 november 2021
NSRT's artistic curator and programmer Raluca Baicu and director Michelle Wilderom had had Artist in Focus Teis Semey (Aalborg, 1993) on their shortlist for some time. Semey's passionate, spirited – almost punk-like – quirky playing and compositions stand out. But for NSRT, his artistic desire to experiment, create and discover new musical worlds also fits perfectly with the role of Artist in Focus. "In Teis, I recognize the kind of drive that we have, too, and are looking for within the festival. Exploring his identity through his music and showing different sides of himself on stage is an important quality for an Artist in Focus", says programmer Raluca.
The input and vision of Teis Semey will extend the coming festival edition in a variety of ways, so his artistic contribution is of great importance to NSRT. Raluca explains: "Rotterdam has great musical diversity of a high standard. Teis is a musician who is open to the unknown and who seeks musical adventure. He has the curiosity to explore and to bring interesting worlds together, which also gives a platform to less visible and less obvious 'faces' of Rotterdam.
Teis Semey
The guitarist, originally from Denmark but resident in Amsterdam since 2013, is making his name fast. The Artist in Focus runs several bands like his own Trio, Quintet, Raw Fish and Teis Semey Super Extra Deluxe Orchestra, and they will probably all be part of the festival. His third album, Mean Mean Machine will be released on November 19th. This is his third record in just three years.
Teis learned to play blues and roots music as a teenager working in the popular Mässingshornet bar in Mälmo, Sweden. The musical community which grew from this small bar gave him confidence and new friends. He studied at conservatories in Stockholm, Amsterdam and Los Angeles and won several prestigious jazz awards.
Recognition
"It was a bit of a shock to be asked to be the next Artist in Focus of NSRT. I was very flattered but also a little anxious about receiving this recognition of my work. I wasn't expecting it. What can I contribute? I thought. It is a big responsibility. My close friend and drummer Sun-Mi Hong was the previous Artist in Focus (2021) and she has been a stalwart supporter and guide to me. She did an amazing job for the festival last year. It's an inspiring challenge to follow in her footsteps."
But who is Teis Semey really? What is his musical vision? What are his dreams? What does this commitment to NSRT mean to him?
Vision
"Speaking of challenge, there are such amazing musicians in the Netherlands that it will be hard for me to choose my line-ups. But the fun part is that as Artist in Focus, I will get the chance to platform some of these wonderful young new musicians who need to be heard. I am very much looking forward to working with musicians from diverse social, cultural and musical backgrounds. Going on a journey of discovery with them and taking them with me on my journey."
"My vision is to broaden and explore all the artistic scenes that I am part of or would like to be a part of, from traditional Danish folk songs to punk and hip-hop. I also really love symphonic composing. I am curious to see how far I can go in terms of including and combining my jazz background with traditional Danish and orchestral music. I also like exploring how I fit into the avant-garde improv scene. I love that form of expression but have never really had much opportunity to develop myself in that scene."
Rotterdam the playground
"Part of being Artist in Focus is to search for new collaborations which relate to the city of Rotterdam. As a cultural city, Rotterdam has a lot to offer. It is one huge playground with so many musical sides I would like to explore – lesser-known places which it will be interesting to transform into stages for modern art. Of course I would like to incorporate this in a graceful, genuine way with great singer-songwriters, poets and or hip-hop artists." 
"I want to share different sounds and explore different worlds, creating intimate musical encounters which transcend genre and in which we share the same mentality and spirit. Also the desire for magic and adventure. The NSRT team helps me with this and makes suggestions – it really is a fascinating creative playground."
"With this in mind, I also try to bridge the gap between Rotterdam and Amsterdam. Fortunately this gap is gradually becoming smaller, thanks to the cool younger generation of musicians. We do ourselves a favour by joining forces. It takes time and effort, but as musicians, we can offer each other a platform by blurring the boundaries of cities. Music has no boundaries. It is great that NSRT acknowledges this and that I can make a contribution to it."
Interview continues below picture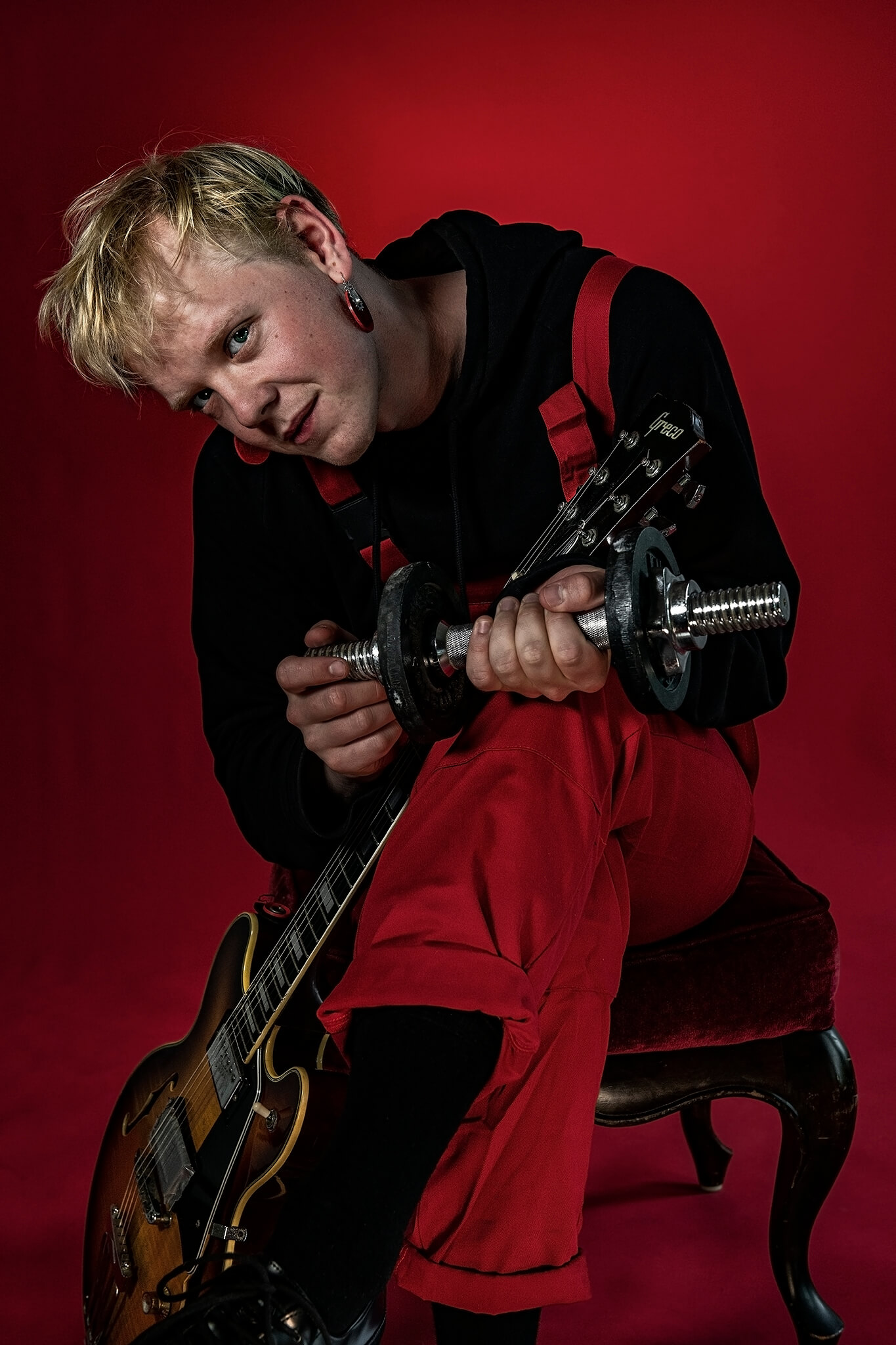 Good conductor
"I will do my best to be a 'magnet', attracting what is hot and happening and which in a way represents me. To summarize, I think my purpose is to collect creativity and present stories of myself and the artists I play with. The great musicians around me are my driving force. My music is well-nourished when I combine experiences and struggles, friendships, love and city life. I want to be a good conductor for the powerful, ambitious and unique musicians around me."
Identity
"In terms of identity, I am afraid we focus on the wrong things. The fetish of representation and individuality often takes the form of mere tokenism and commercialization of identity. We have to focus on real critique and act accordingly. There is too much individualism these days – we're all in it together. As a musician, I can be categorized in all kinds of boxes, but I don't feel that it is very helpful to be too focused on those. In my music, a mix of attitude and harmony has always been natural for me. I like extremes and friction, movement and action. I want my music to be intense in every way. That is who I am." 
Outsider
"I think I come back to a lot of choral and traditional music from my childhood because it's anchored in the culture that I was never really a part of. I want to reclaim the music; steal back Danish culture. As a child, I didn't fit in in the small local community of Bælum in the northern countryside of Denmark. I didn't feel welcome or accepted. I was an outsider who was bullied a lot. My parents were busy, so I was alone much of the time. Music was my salvation."
"When studying the music of the great jazz icons, I always knew that my calling was to express my own voice. I relate best to my idols such as Monk, Coltrane and Billie Holiday by engaging with my own story, struggles and anger and translating this into music. I just try to be myself, although I don't always know what that means. I want to be at my best and have confidence that what I create is genuine. My difficult childhood made me stronger and enabled me to reach my goals. I've always felt that struggle is a natural part of growth."
Dream setting
"Talking about dream settings, I can't share a lot yet. I can only tell you that I am secretly working with fantastic international musicians. You'll just have to wait and see. 
Though I am already working with so many great musicians, there is something I have always dreamed of – I would love to write choral music for a choir and perform it with them. When I was living in Stockholm, I listened to a lot of contemporary classical music, like composer Arvo Pärt. I would love to challenge myself with this type of blissful music."
"I want to demonstrate all the kinds of music which resonate in me, but which I don't often get the opportunity to perform. I need to be immersed in and confronted by music and people to inspire me and Rotterdam is such a great city in that respect. Right in the centre of it all is where I am happiest."
Stay up to date!
Follow NSRT on Instagram, Facebook, Twitter, YouTube, Spotify or subscribe to our newsletter.
Follow Teis on Instagram, Facebook or website.
Header by Miriam Guttmann
Picture in text by Petra Becker