Midnight Mess, het geesteskind van gitarist Teis Semey, is een mengelmoes van Scandinavische volksmuziek, indie-muziek en jazz improvisatie. Dit eigengereide laatste avondmaal bestaat uit gecomponeerde stukken en geïmproviseerde delen die worden uitgevoerd door zes indrukwekkende musici. Midnight Mess is i.s.m. North Sea Round Town ontwikkeld en was Semey's 'Artist in Focus'-droomproject dat op het festival van 2022 in première ging in de Laurenskerk. Een jaar later is Midnight Mess opgenomen voor een gloednieuw album, dat op zaterdag 24 juni het levenslicht ziet met een excentrieke geboorte in Oude Kerk Charlois.
Midnight Mess is een een koorstuk met orgel en gitaar dat wordt opgevoerd door zes topmusici uit de hedendaagse jazzscene. Het vierkoppige koor bestaat uit aangrijpende vocalisten Marta Arpini, Fuensanta, Sanem Kalfa (NSRT Artist in Focus 2023) en Līva Dumpe. Achter het imposante orgel van de Oude Kerk Charlois vind je Britse organist/pianist Kit Downes (BBC Jazz Award, ECM Records). De discrete hoofdrol en composities van het stuk wordt ingevuld door Semey zelf.
De muziek is een liefdevol eerbetoon aan de Deense traditionele muziek waarmee Semey opgroeide. Daarnaast inspireerden de spirituele melodieën van Arvo Pärt en vrijzinnigheid van jazzmusicus John Coltrane het stuk. Ondanks zijn reputatie van een "screaming into your face" benadering van muziek (Jazzism), is Midnight Mess meer een "screaming into your heart" concert waarmee Semey nostalgie met vooruitgang versmelt.
De avant-gardistische Deense gitarist maakt steeds meer vaart op het internationale jazzpodium. Vorig jaar was hij North Sea Round Town's Artist in Focus (2022), tourde voor Footprints Europe met zijn kwintet en speelde een showcase op jazzahead! in Bremen.
Tickets & passe-partouts zijn nu te koop.
(Meer info onder beeld)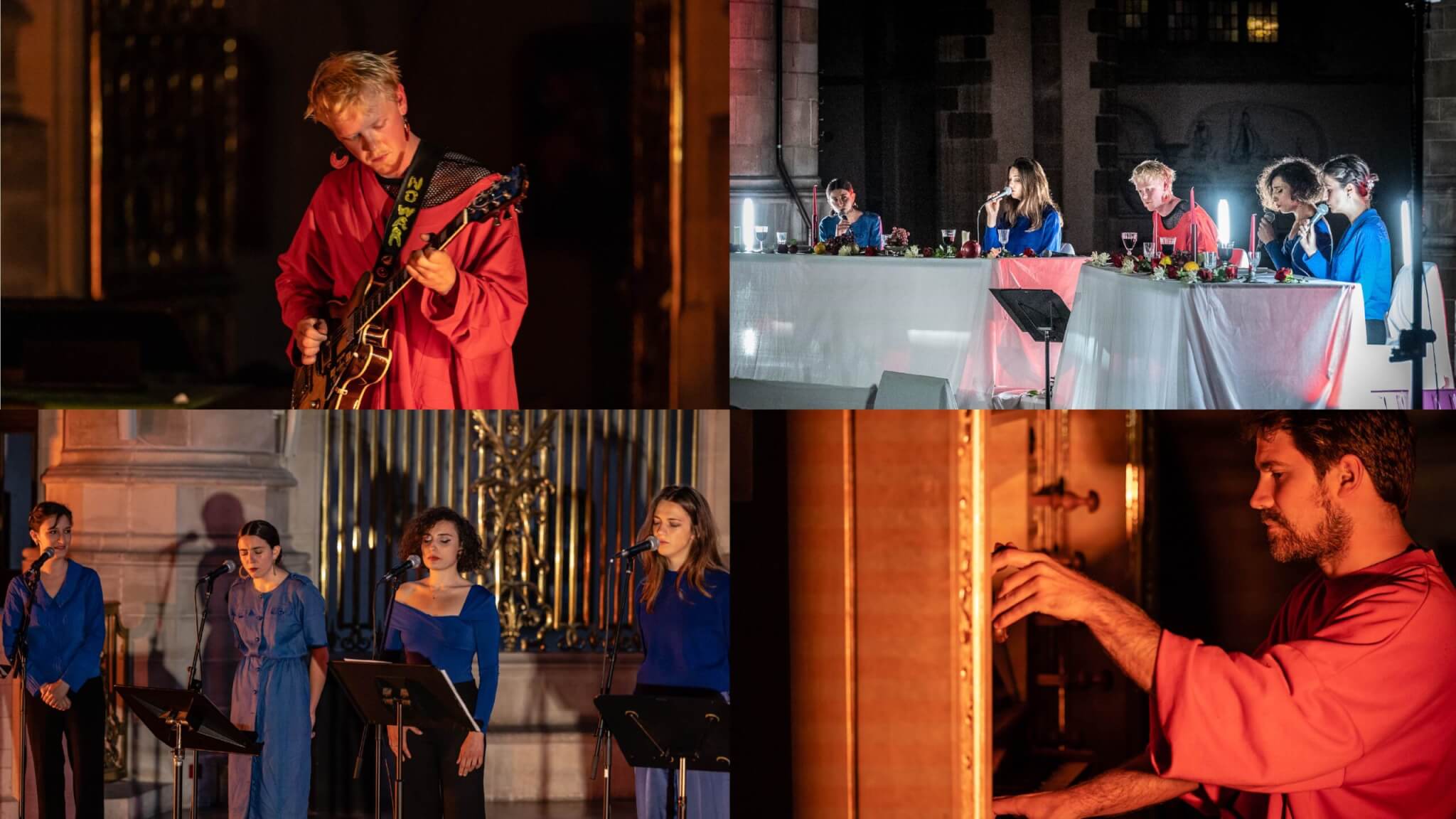 Losse tickets
Early Bird (van 30 maart tot 15 mei) — €12,50 
Regular (v.a. 15 mei) — €16,00
Korting (Onder 26, RotterdamPas, CJP) — €10 
Passe-partout
Dit jaar introduceert North Sea Round Town een passe-partout waarmee je drie exclusieve concerten in het openingsweekend van het festival bezoekt. Het passe-partout is geldig voor YOURAN o.l.v. Joachim Badenhorst op donderdag 22 juni, Sanem Kalfa's droomproject Invisible Columns op vrijdag 23 juni (Artist in Focus 2023) en de albumrelease van Teis Semey's Midnight Mess op zaterdag 24 juni (Artist in Focus 2022). Breid je passe-partout uit naar een passe-partout Plus en vaar na Teis Semey's Midnight Mess ook mee op Het Jazzschip (za 24 juni).
North Sea Round Town creëert een inspiratievol weekend dat het nieuwste uit de contemporary jazzscene presenteert op boeiende Rotterdamse locaties, met overdag het gratis showcase- en professionalsprogramma van inJazz. 
Early passe-partout €25 — Early passe-partout Plus €65 (tot 15 mei)
Regular passe-partout €35 — Regular passe-partout Plus €85 (v.a. 15 mei)
Korting passe-partout €25 — Korting passe-partout Plus €65 (onder 26, RotterdamPas, CJP)
Meer info passe-partout Naar ticketshop
Over de musici
De Deense Teis Semey was in 2022 North Sea Round Town 'Artist in Focus'. De avant-gardistische gitarist maakt steeds meer vaart op het internationale jazzpodium. Begin 2023 stond hij al op Jazz I Am, tourde in 2022 voor Footprints Europe met zijn kwintet en speelde een showcase op jazzahead! in Bremen.
Kit Downes is een BBC Jazz Award winnende, Mercury Music Award genomineerde solo artiest en recording artist voor ECM Records. Hij heeft de wereld rondgereisd op piano, kerkorgel en harmonium met zijn eigen bands ('ENEMY', 'Troyka' en 'Elt') en met artiesten als Squarepusher, Bill Frisell, 'Empirical', Andrew Cyrille, Sofia Jernberg, Benny Greb, Mica Levi en Sam Amidon.
Sanem Kalfa is een Turkse vocaliste, celliste en componiste gevestigd in Nederland. Kalfa werkt samen met Harmen Fraanje, Tineke Postma, Louis Cole, Alexis Blake, Nate Wood, Genevieve Artadi, David Binney, George Dumitriu en vele anderen. In haar zangcarrière won ze verschillende prijzen, waaronder de 1e Prijs Shure Montreux Jazz Vocal Competition voorgezeten door Quincy Jones. In 2023 is Sanem Kalfa North Sea Round Town 'Artist in Focus'. 
Italiaanse zangeres, songwriter en componist Marta Arpini was één van de winnaars van Keep an Eye the Records 2020. Deze prijs resulteerde in een nieuw album, waardoor Marta een nieuw hoofdstuk in haar carrière kon starten. In 2022 werd Arpini genomineerd voor een Edison Jazz in de categorie vocaal nationaal.
Līva Dumpe begon haar muzikale pad door meer dan 8 jaar klassiek piano te studeren. Na haar grote belofte als opkomend concertpianiste, besloot ze haar droom na te jagen en studeerde ze als jazzvocaliste aan de jazzafdeling van de Riga Cathedral school. In Amsterdam zie je Dumpe is verschillende samenstellingen waaronder het Līva Dumpe Kwintet en Fuensanta's Ensemble Grande.
Vera Morais is een Portugese zangeres, improvisator en componist die in Amsterdam woont. Tot haar meest recente projecten behoren een duo met de tenorsaxofonist Hristo Goleminov waarin geselecteerde gedichten van auteurs als William Carlos Williams tot leven komen in grotendeels geïmproviseerde muziek. Momenteel is ze koorleider en arrangeur van het Queer Choir of Amsterdam, geleid door kunstenaars Shreya de Souza, Mylou Oord en Sarah Naqvi.
Foto's door Eric van Nieuwland en Maarten Laupman
Zomer op Zuid
North Sea Round Town sluit zich aan bij Zomer op Zuid. Deze zomer zet Rotterdam alle schijnwerpers op Rotterdam Zuid. Ruim vier maanden lang is daar, voor iedereen, heel veel te beleven. Met een programmering van grote en kleine evenementen laat Zomer op Zuid zien wat Zuid echt is: krachtig, eigenzinnig, verrassend en niet te stoppen.
Recommended
Check hier onze gerelateerde opkomende programma onderdelen